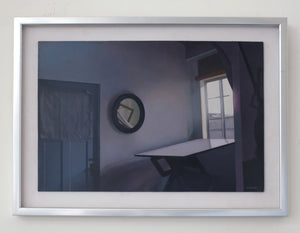 Oil painting on board by Mark Lozano. "Corner of Lost Studio" 2011-2014. Framed by artist.
Dimensions: (overall) 23.5" W x 17" H
Mark Lozano is a Santa Barbara based artist known primarily for his small glazed oil paintings on panel--moody interiors and quirky still lifes that border on what has come to be called Magical Realism.
For information regarding shipping of this item, please reference our shipping policies. Depending on your location shipping costs will vary. To receive a quote for shipping this item, please contact us directly.