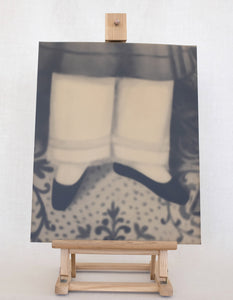 Gelatin silver print photograph by Robert Stivers. First edition print.
Dimensions: (overall) 16" W x 20" H
Robert Stivers received his B.A. at the University of California, Irvine (1975), his M.A. at New York University (1981), and has exhibited internationally since the early 1990s. He has five published monographs, starting with the eponymous Robert Stivers: Photographs (1997) and continuing on with Listening to Cement (2000), Sestina (2003), Sanctum (2006), and The Art of Ruin (2015). 
His work is in major collections such as the Bibliothèque Nationale (Paris, France), the Getty Museum (Los Angeles, CA), The Metropolitan Museum of Art (New York, NY), Museum Ludwig (Cologne, Germany), and the Victoria and Albert Museum (London, United Kingdom). He currently lives and works in Santa Fe, New Mexico and Los Angeles, California.

For information regarding shipping of this item, please reference our shipping policies. Depending on your location shipping costs will vary. To receive a quote for shipping this item, please contact us directly.