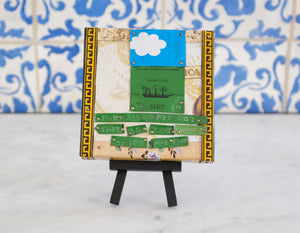 Tin collage on wood. "Ship in Port No. 5" by Susan Owens. 2018.
Dimensions: 5" H x 5" W x .75" D
Susan Owens is a Santa Barbara based artist who has participated in group shows at the Atkinson Gallery, Westmont Ridley-Tree Museum of Art, The CAW (Community Arts Workshop), and most recently had 13 pieces in the Cut and Paste group show curated by Dug Uyesaka. "My stash of tin cans were too beautiful to recycle and it turned out that the 5x5 inch format was perfect for presenting small images found on cans at an accessible price."